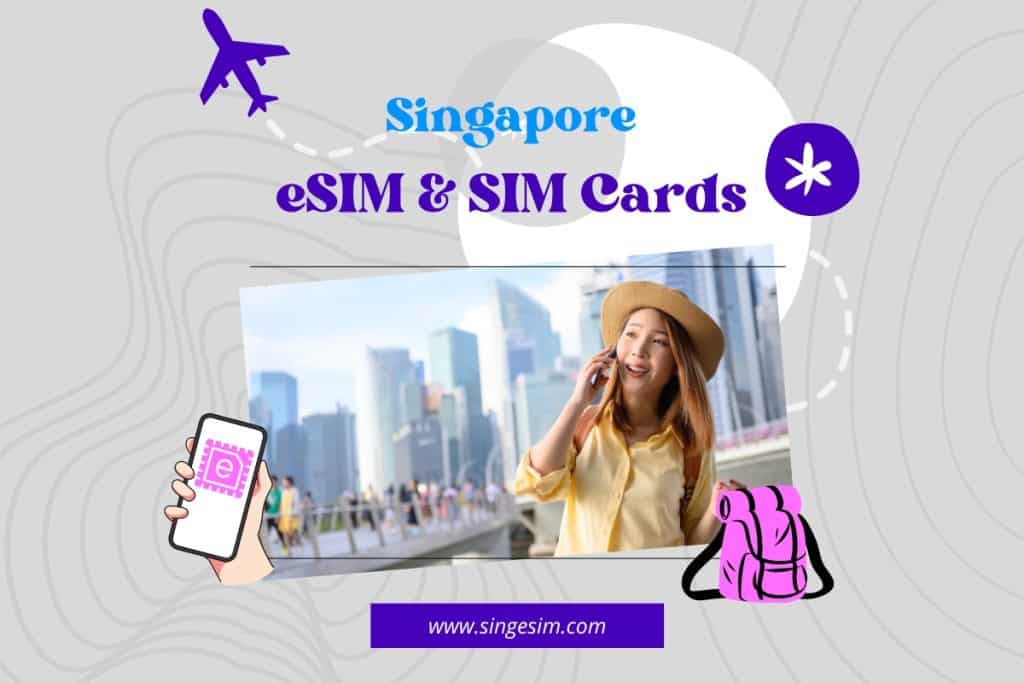 If you're planning a trip to Singapore, you'll need to consider how you'll stay connected while you're there. One option is to use a traditional SIM card, while another option is to use an eSIM. Both options have pros and cons regarding convenience, coverage, and cost.
Whether an eSIM or SIM card is better for your Singapore trip depends on how long you plan to stay and how much data/calls you need. This guide will explore the key differences and help you choose the solution that suits you the best for your vacation in Singapore. Stay connected with minimal hassle and enjoy all that Singapore has to offer!
Table of Contents
I. Should You Get a SIM Card or eSIM When Traveling to Singapore?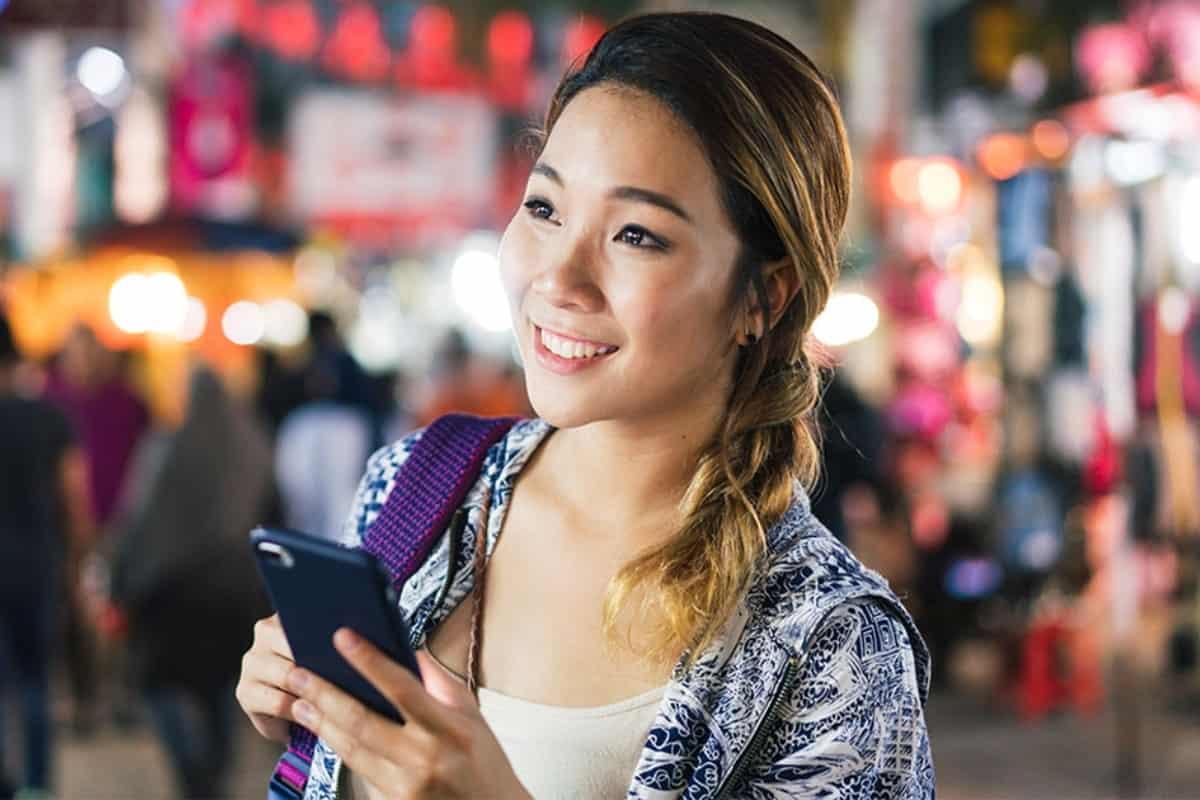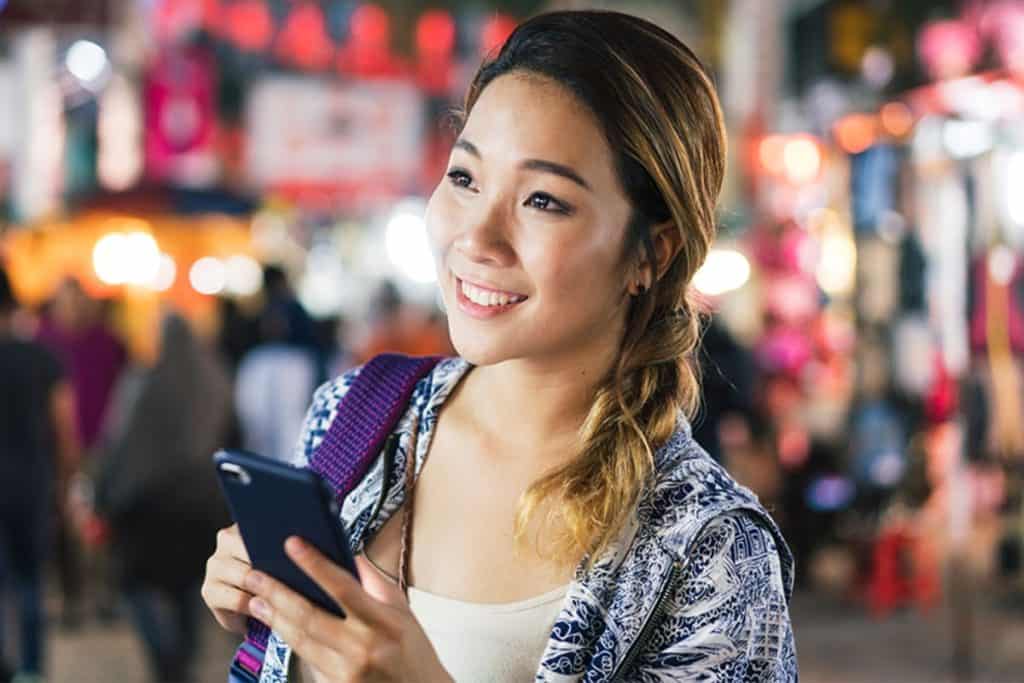 One of the most crucial things to consider while coming to Singapore, whether for business or pleasure, is how you'll stay connected. Using a SIM card from your home country is possible, but the roaming cost will be much higher. Purchasing a new SIM card when you get to Singapore is an additional choice.
In Singapore, getting a new SIM card might be a cost-effective option, especially if you want to remain for a while. Depending on your usage and budget, you may select a prepaid or postpaid plan from various alternatives.
You may use local calls, SMS, and data prices if you get a new SIM card in Singapore. Additionally, you can avoid the hassle of negotiating exorbitant roaming fees with the service provider in your home country.
Singapore eSIM or a travel SIM card. Notes: Getting a new SIM card might not be worthwhile if you only visit Singapore briefly. In this situation, you may use a
II. Singapore Mobile Speeds, Mobile Internet Prices & Insights
Here are some insights about Singapore mobile network that you can know:
1. Singapore Mobile Internet Prices
Singapore is one of the more popular travel destinations in Southeast Asia. But it is certainly not one of the cheapest countries to visit in the region.
However, the same cannot be said about mobile data rates in Singapore – they are more affordable than you would expect.
The average price for mobile in Singapore is more affordable than the average price in Asia and the world. Here're references for the average price of mobile data:
1GB in Singapore: 0.86 SGD (0.61 USD)
1GB in Asian: 1.47 USD
1GB in world average: 3.12 USD
According to 2022 statistics from Cable.co.uk, Singapore is roughly in the middle of the pack in terms of Southeast Asia's cheapest or priciest countries for mobile data, trailing only Laos, Myanmar, Brunei, and Timor-Leste in that order, but ahead of Thailand, Cambodia, Malaysia, Indonesia, the Philippines, and Vietnam.
2. Singapore Mobile Internet Speeds
Singapore's median mobile download speed is around 76.48 Mbps. For reference, the global median is around 41.54 Mbps at the moment. (2023 statistics from SpeedTest).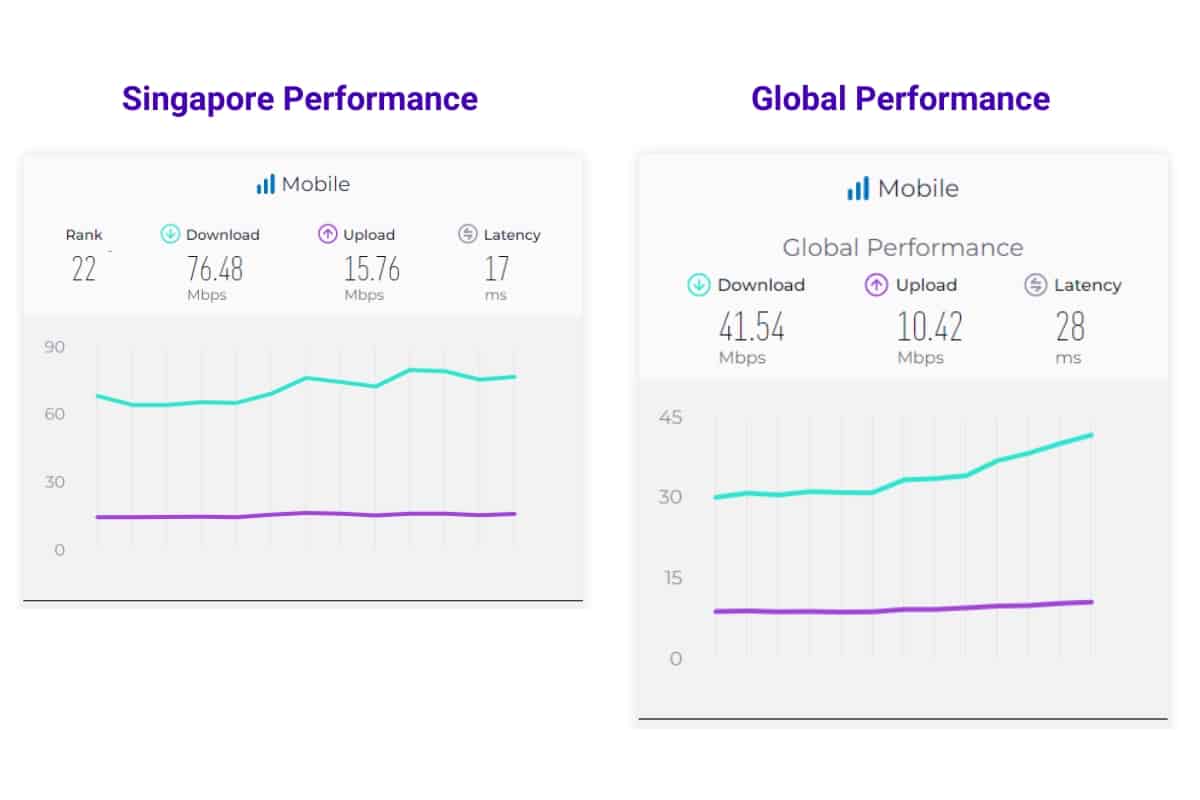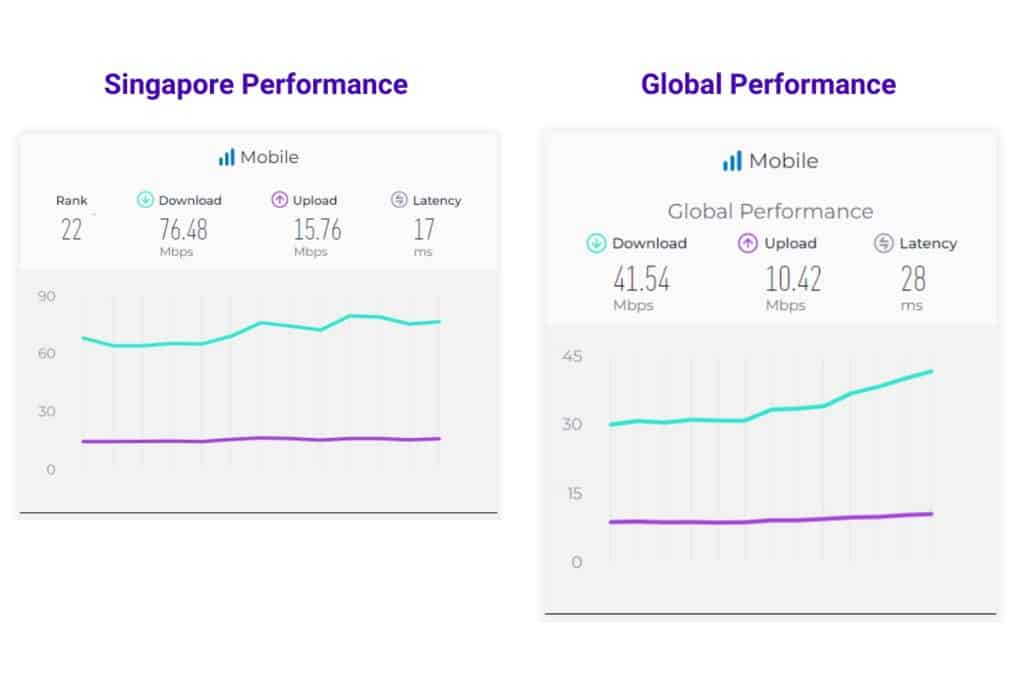 Now it is time to know which mobile operator is the fastest in Singapore.
That would be Singtel, with a median download speed of 119.66 Mbps. Followed by StarHub (85.88), M1 (51.69) & SIMBA (formerly TPG Telecom Singapore – 23.37 Mbps).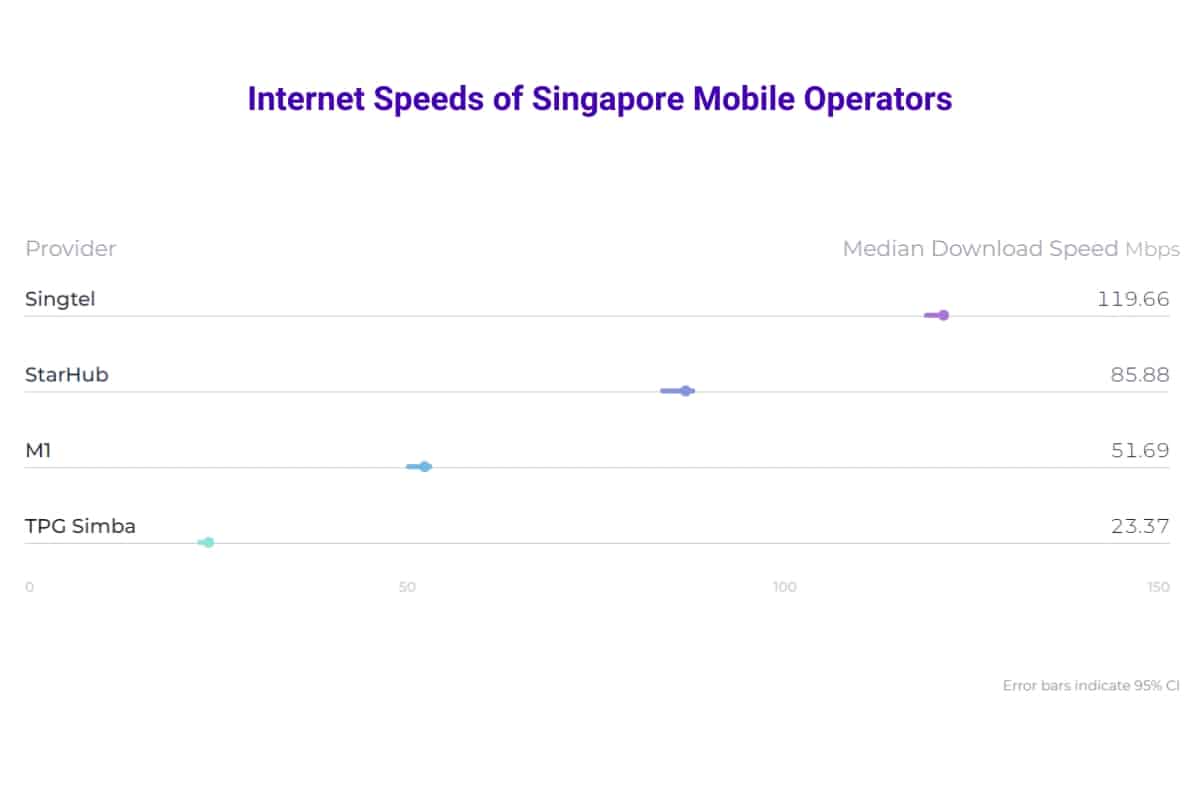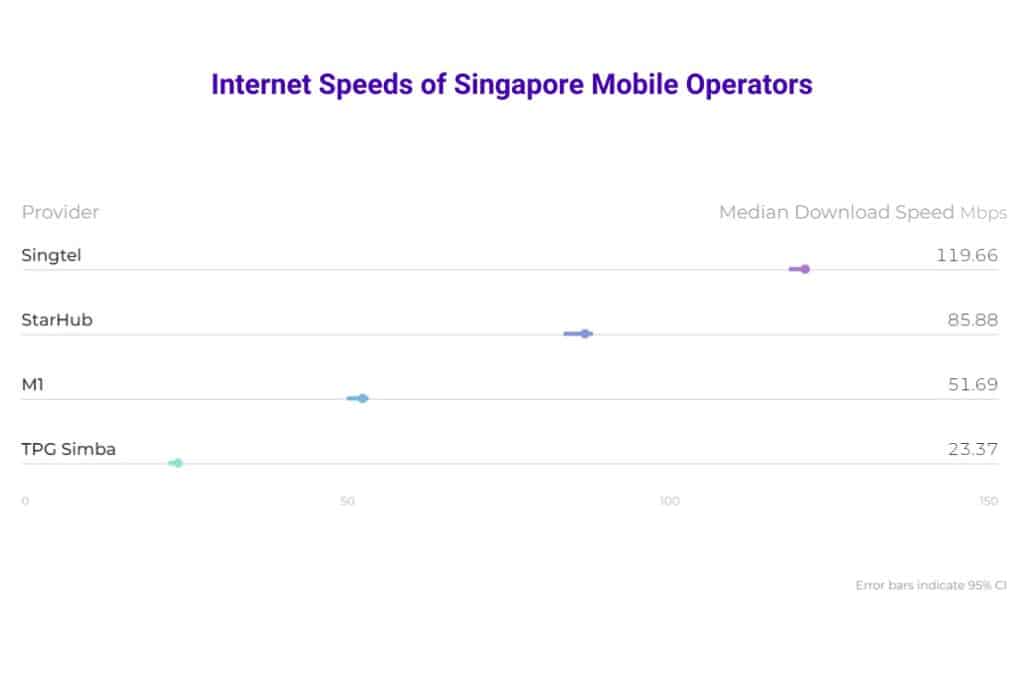 Read more about Singapore mobile operators.
III. Types of Singapore Tourist SIM
Ensure your phone is unlocked so it can receive the signals of Singapore cellular providers before purchasing a new SIM card or eSIM for your trip.
The following varieties of Singapore SIM are now offered to visitors:
Physical SIM (SIM cards)
Embedded SIM (eSIM)
1. Physical SIM card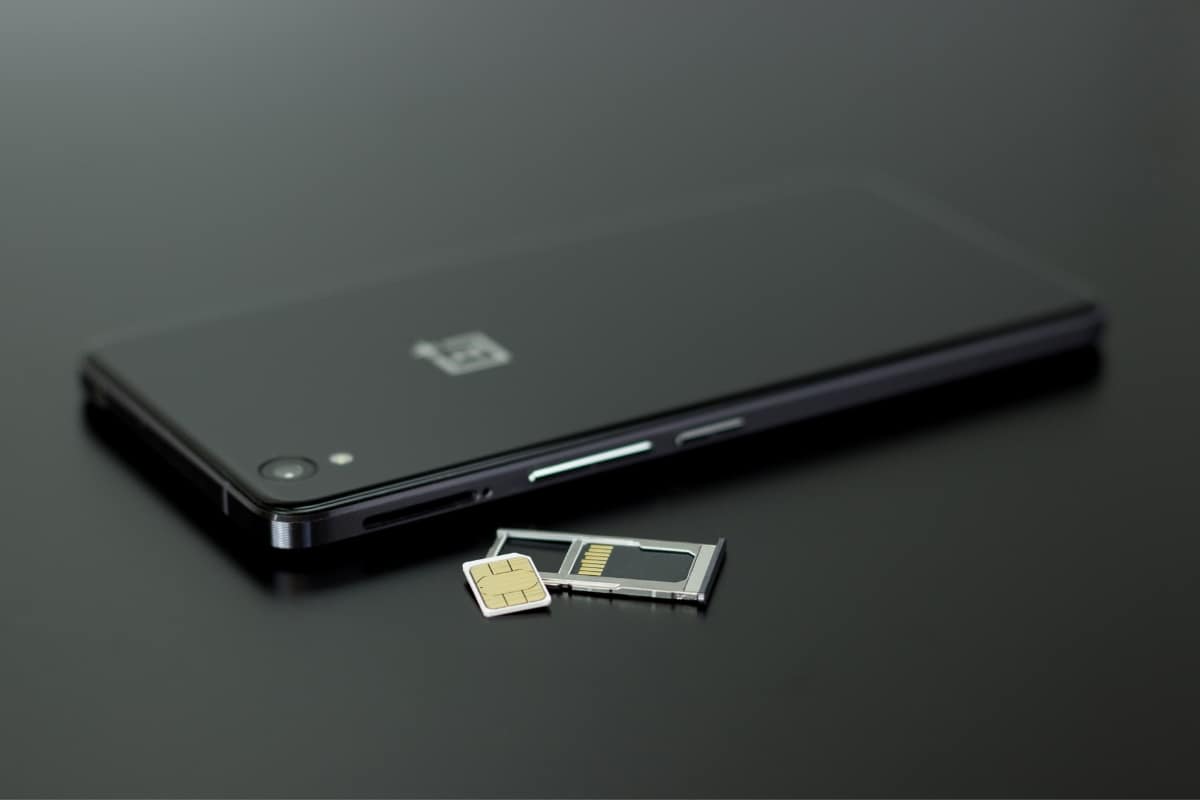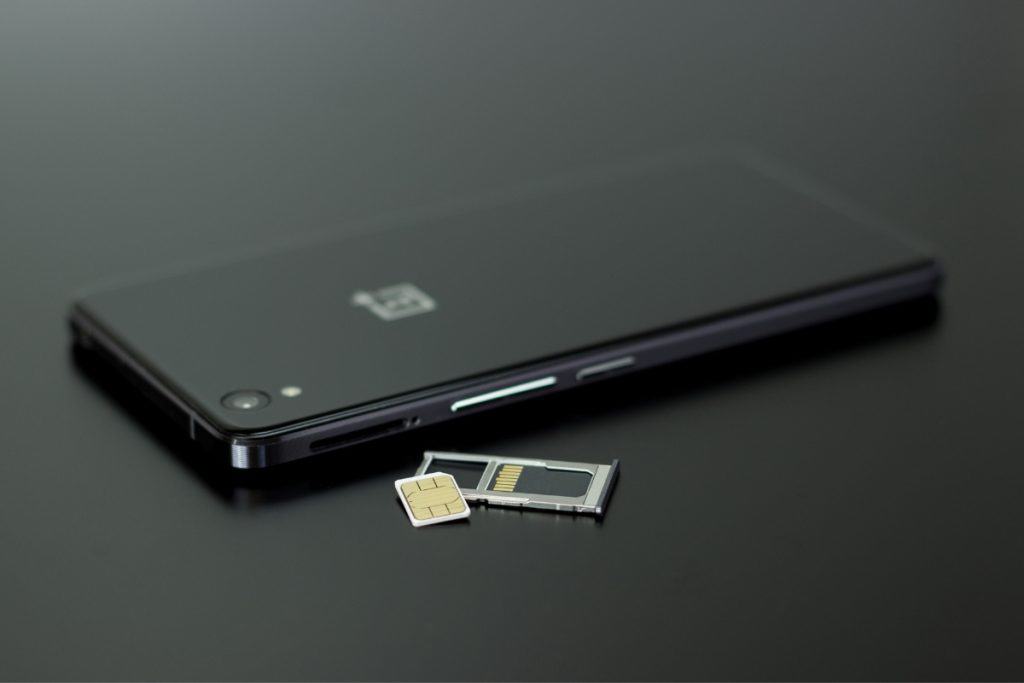 This type of SIM is easy to set up and use. It includes 2 types of SIM cards that tourists can refer to:
Prepaid Local SIM Cards
Tourists in Singapore frequently use prepaid SIM cards. The airport and several convenience stores both sell it. During your trip, you could use the data, calling, and texting credits this type of SIM card offers.
Where to buy: At the Singapore airport, in official stores of mobile network operators or in convenience stores in Singapore.
Requirements: Passport and probably personal information like an ID card.
Tourist SIM Cards
Tourist SIM cards provide discounted calls, messages, and data usage prices and are created exclusively for tourists visiting Singapore. The airport in Singapore and several convenience outlets carry these cards.
Where to buy: Buy online, buy at Singapore airport, in mobile carriers' official stores, convenience stores,…
Requirement: Passport information and perhaps personal data.
2. Prepaid Singapore eSIM for Tourist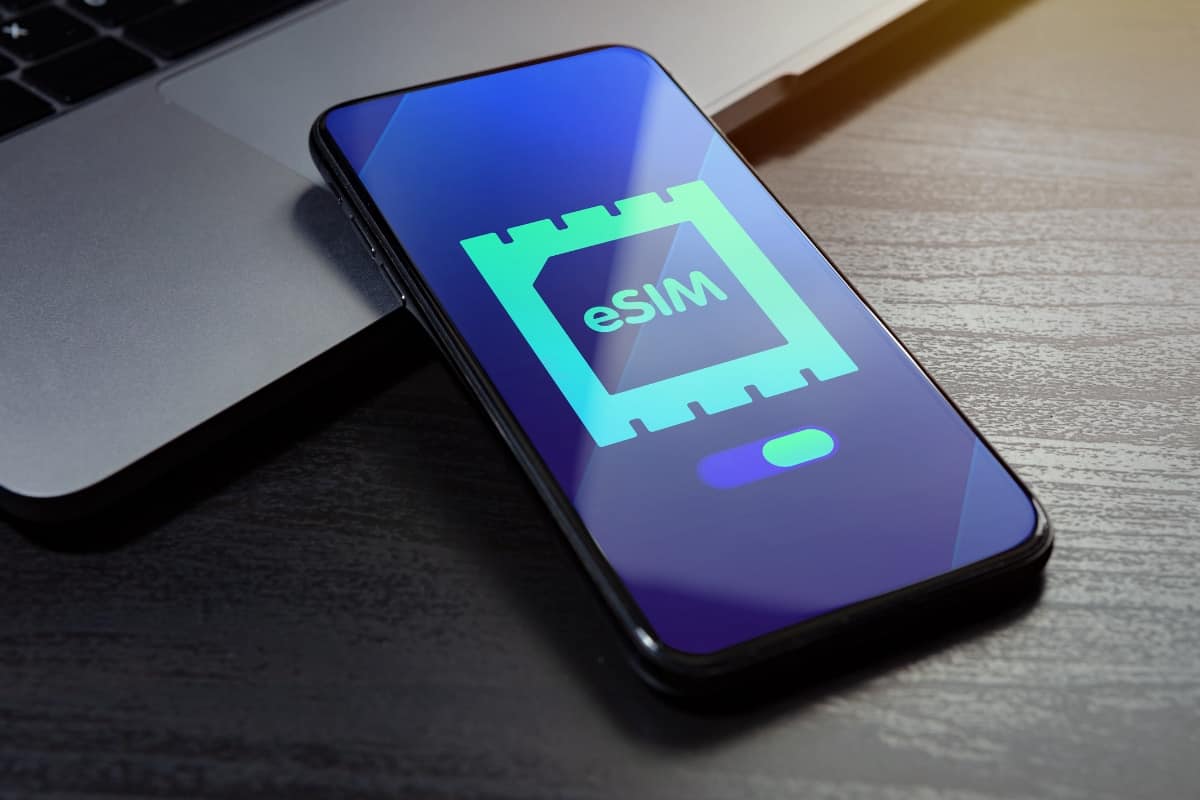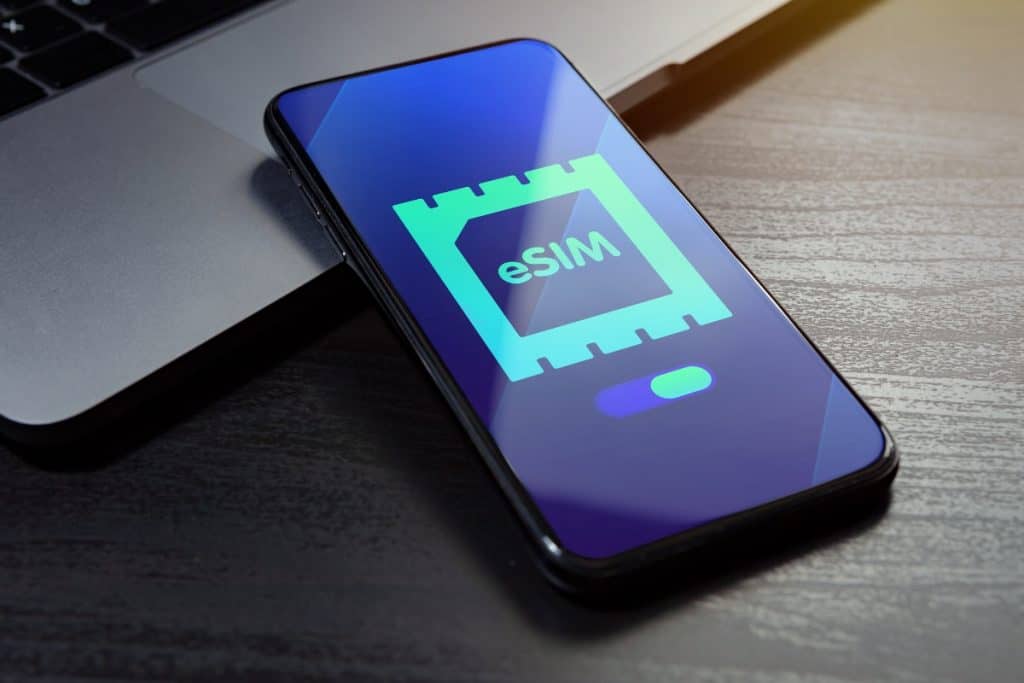 Many of you may find this kind of SIM unfamiliar, yet it is now the most modern and practical communication method for overseas travelers. You may stay connected in Singapore practically anywhere and anytime with a prepaid Singapore eSIM because it is entirely online. It performs the same purpose as a conventional tourist SIM card. However, you do not need to change out your current SIM card.
To conserve money and keep in touch with loved ones while traveling, many travelers opt for a data-only tourist eSIM.
It is advised to evaluate the plans and prices provided by various mobile network providers to choose the best for your needs.
Where to buy: Buy at online stores of eSIM providers like SingeSIM, Gigago, Airalo, Holafly, etc.
Requirement: An unlocked and eSIM-compatible device. Check out eSIM compatible device list.
Read more: Getting a SIM Card at Changi Airport
IV. Where to Buy Singapore eSIM and SIM Cards for Tourists?
Singapore SIM cards and eSIM are indispensable items when traveling to Singapore. It will help you stay connected and use mobile data for basic demands like maps navigation, online booking,… Let's check out where to buy Singapore eSIM and SIM cards for tourists.
1. Where to Buy Singapore SIM Cards for Tourists?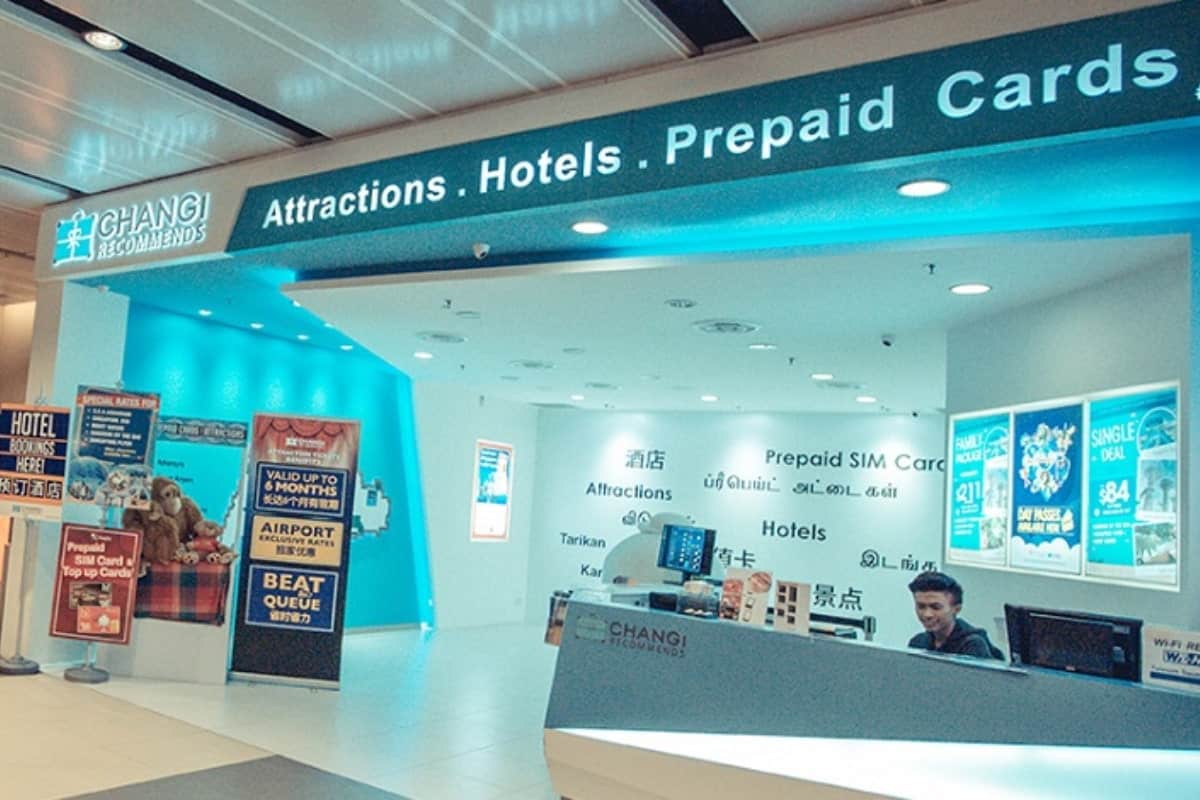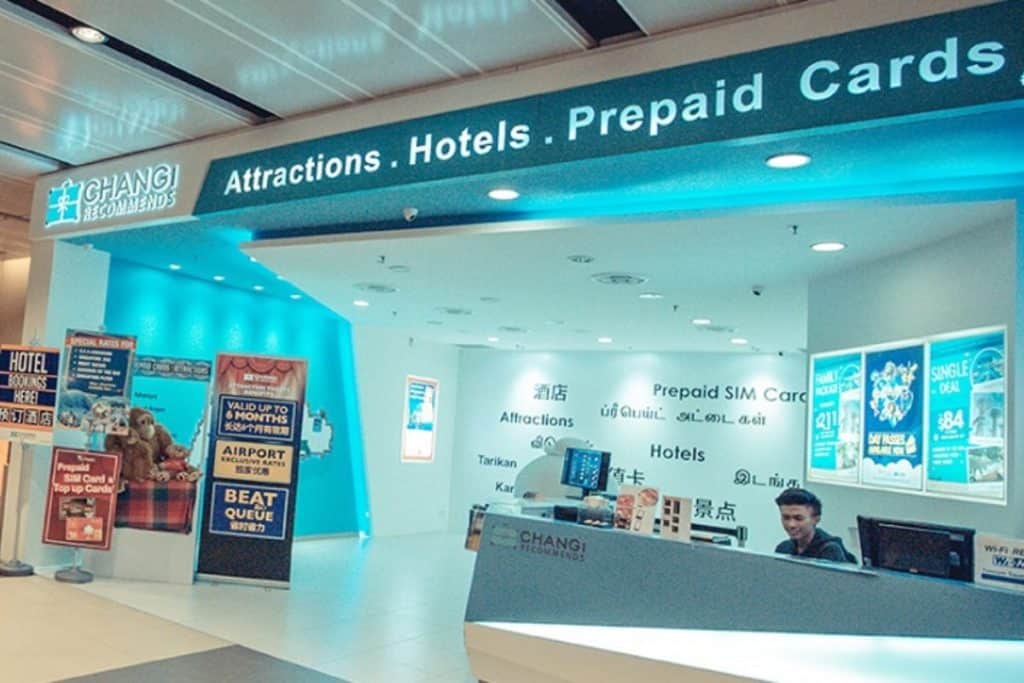 Tourist SIM cards for travelers in Singapore can be purchased from several locations, including:
Changi Airport: You may acquire tourist SIM cards from several telecom companies, including Singtel, StarHub, and M1. These are typically offered in all terminals' arrival halls. Discover more on how to get SIM cards at Changi Airport.
7-Eleven convenience stores: 7-Eleven convenience outlets, which are prevalent in Singapore, sell tourist SIM cards.
Telecommunication providers' stores: Also available are tourist SIM cards from mobile operators, including Singtel, StarHub, and M1 retail locations. These shops may be found across Singapore in various shopping centers and popular tourist destinations.
Online: Tourist SIM cards can be purchased online from the websites of telecommunication providers such as Singtel, StarHub, and M1. Besides, you can also buy Singapore SIM cards on many e-commerce platforms like Amazon, AliExpress,…
Note:
To buy a tourist SIM card, you must present your passport for registration.
When purchasing a tourist SIM card, compare the packages different providers offer to find the best plan for your needs.
Consider the coverage and network quality of the provider in the areas you plan to visit.
2. Where to Buy Singapore eSIM?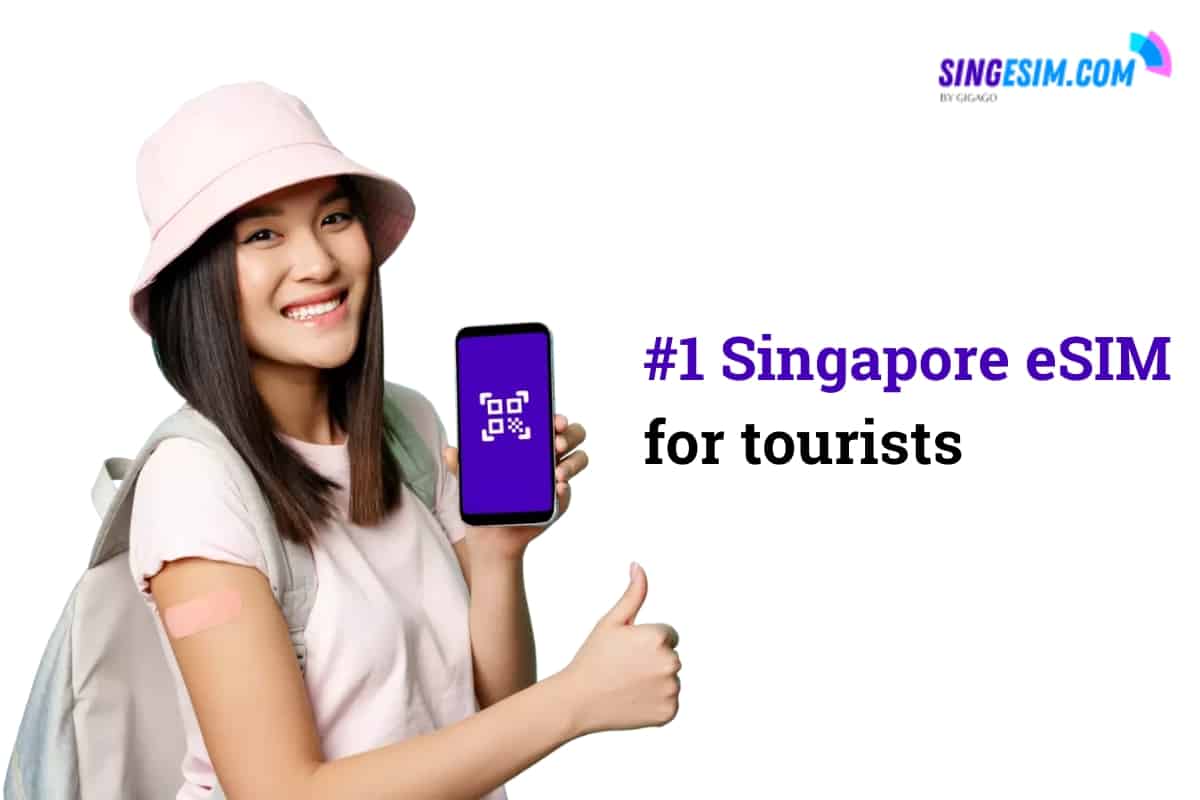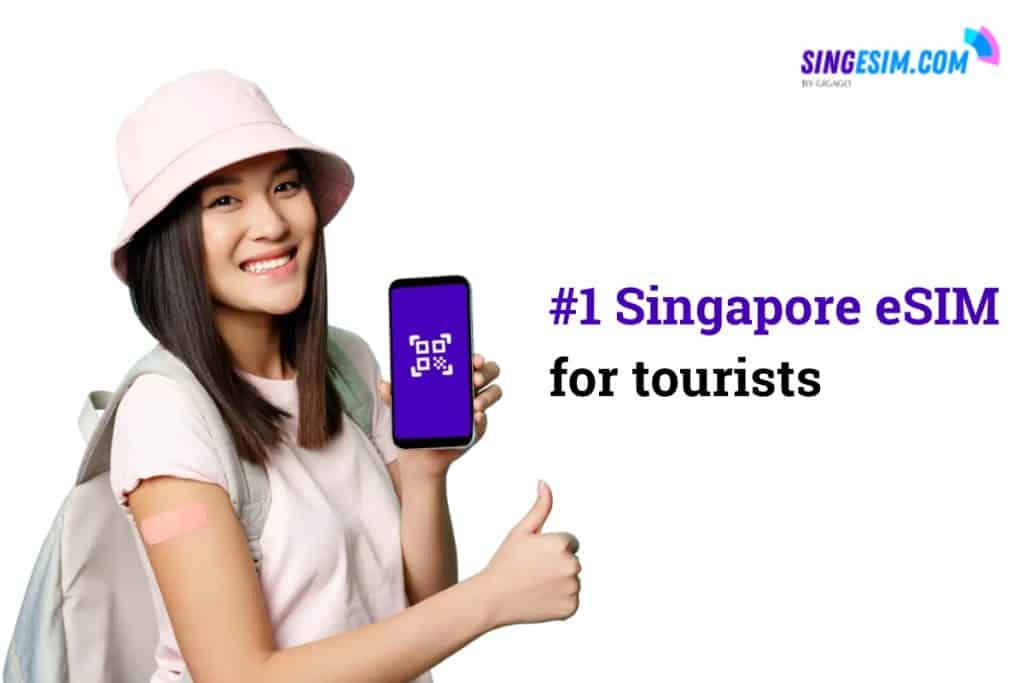 Tourist eSIMs for Singapore travelers can be purchased from various telecommunications providers before or after arrival in Singapore. Here are some options:
Singapore eSIM providers: Many Singapore eSIM providers offer tourist eSIMs for travelers to Singapore. When buying eSIM from Singapore eSIM providers, you can have more options on data plans and validity than purchasing from Singapore mobile operators. 
SingeSIM: It is one of the leading eSIM providers for tourists visiting Singapore. They offer Singapore eSIM plans with validity from 1 day to 30 days and various data options. Visit singesim.com for more details.
Singtel: Singtel offers a tourist eSIM called hi!Tourist, which can be purchased online before arriving in Singapore. The eSIM can also be activated upon arrival at Changi Airport or any Singtel Shop.
StarHub: StarHub also offers a tourist eSIM called Travel Prepaid eSIM, which can be purchased online before arriving in Singapore. The eSIM can also be activated upon arrival at Changi Airport or any StarHub Shop.
M1: M1 offers a tourist eSIM called M Card, which can be purchased online before arriving in Singapore. The eSIM can also be activated upon arrival at Changi Airport or any M1 Shop.
Changi Recommends: Changi Recommends is a travel concierge service offering various travel services, including selling tourist eSIMs. Tourists can purchase an eSIM online before arriving in Singapore and pick up the physical SIM card upon arrival at Changi Airport.
Notes:
When purchasing a tourist eSIM, check your device's compatibility with the eSIM and the network coverage in the areas you plan to visit.
Consider the data plan and validity period offered by each provider to find the best plan for your needs.
V. How Do Singapore eSIM and SIM Cards Cost?
Singapore eSIMs and SIM cards have affordable prices for any tourist. The prices may depend on many factors like network carriers, data plan, and validity,… You can refer to some information below:
1. Singapore SIM Cards Cost
The cost of Singapore SIM cards can vary depending on the telecommunications provider and your plan type. Here is a general overview of the cost of Singapore SIM cards:
Prepaid SIM cards: In Singapore, prepaid SIM cards can range in price from SGD 8 to SGD 38. The telecom company, the data allotment, and the duration of the package determine the price. Unlimited data plans are available from some carriers, although they are more costly.
Postpaid SIM cards: In Singapore, postpaid SIM cards often need a contract, and the price might change based on the telecom company and the plan type you select. Depending on the monthly data allotment and other features like international roaming and bundled services, the price normally varies from SGD 20 to SGD 80.
Tourist SIM cards: Singapore's tourist SIM cards are created for transient tourists and normally include a certain number of voice and data minutes. Depending on your plan choice and the telecom operator, the price might be anywhere from SGD 12 and SGD 38.
Note: It's important to note that some plans may require additional activation or SIM card registration fees, so check the fine print before making a purchase.
2. Singapore eSIM Cost
eSIM plans for tourists in Singapore typically cost between $8 to $25, depending on the data and call benefits. These usually include 1-5GB of data, local calls, and sometimes incoming international calls.
Some providers also offer bulk data plans, but the prices are quite high, up to roundly $50. You can refer to some comparisons between some Singapore eSIM providers as below:
| | | | | |
| --- | --- | --- | --- | --- |
| eSIM provider | SingeSIM | AirAlo | Holafly | WHIZ |
| Data | 3-50GB or 1-3 daily data | 1GB – 20GB | Unlimited | 3GB – Unlimited |
| Validity | 1-30 days | 7 and 30 days | 5-90 days | 1-30 days |
| Price | $2.9 – $80 | | $19-$99 | $2.29 – $34.99 |
| Average USD/GB | ~$1.1/GB | | $1.1-$3.8/day | $1.2-$2.3/GB |
| Network | Singtel/M1 | Singtel | Singtel | Singtel |
| Top up | No | Yes | No | No |
| eSIM number | No | No | No | No |
Comparison between some Singapore eSIM providers
As you can see, when choosing Singapore eSIM from eSIM providers, you will have so many options for your trips. If you:
Need more plan and validity options: SingeSIM
Prefer more reasonable prices: SingeSIM or Holafly
Need unlimited data plan: Holafly and WHIZ
Need top-up options: Airalo
Longterm use: Holafly
How much data does a tourist need when traveling in Singapore?
Most of the time, 3GB to 5GB of data will be plenty for a vacation for individuals who regularly use data. You might wish to choose a plan with a bigger data volume or longer validity if you plan to travel for a longer period of time (about one month).
To save data, you should make use of Public WiFi as long as possible.
VI. Singapore eSIM and SIM Cards: Which One is Suitable for Your Trips?
Although travel to Singapore doesn't need to have an eSIM, there are certain benefits and conveniences for tourists.
Below is a quick comparison between physical SIMs vs Singapore eSIM. Let's examine their similarities and differences!
1. Similarities
They are both SIMs, and can connect the phone to the mobile provider's network in Singapore and keep them connected everywhere in Singapore.
They can work almost in a Dual-sim phone and can be used to connect to the network.
Include 2 forms: Data-only plans and Data-voice plans.
2. Differences
Below are some key differences between 2 types of SIMs for Singapore travel:
eSIM
SIM card
Form
An eSIM is a digital SIM that allows users to activate a mobile data plan from the network provider without having to use a physical nano-SIM.
A SIM card is a chip which is physically inserted or removed inside the phone with your carrier's plan.
Where to buy
Online
Picked up at a store or shipped to you
Pros
eSIM is digital: eSIM is built-in the motherboard of a mobile device. You can buy Singapore tourist eSIM outside Singapore, download them ANYWHERE as long as you have internet access, and have it activated right after you land in Singapore.
SIM is removable: if your phone's battery is died, you can swap the SIM card into another unlocked device with a working battery
eSIM cannot be physically damaged or lost: because it is inside the phone, the eSIM will not be lost or damaged like the physical sim.
SIM cards are easily bought at local markets or convenience stores in Singapore are usually cheaper than eSIMs.
eSIM are not limited: it allows you to switch lines whenever you want. You can store multiple eSIMs in a device. This is a big plus in comparison with physical SIM cards.
You can set up eSIM before arriving in Singapore and activate them after landing.
You can avoid the sim card registration scheme of Singapore, which is mandatory for those using Singapore SIM cards.
Cons
eSIM does not work in older phones model: Because eSIM technology is relatively new, not all phone models can work with eSIM. You may have to buy a new expensive phone if you want to use eSIM
SIM card can be lost or damaged: If you remove your SIM card and place it somewhere
VII. FAQs
What is the difference between an eSIM and a physical SIM card?
The main difference is that an eSIM is embedded in the device and cannot be removed, whereas a physical SIM card is a removable card that can be swapped between devices. Additionally, eSIMs can support multiple cellular plans at once, while physical SIM cards are typically associated with only one plan at a time.
Can I use an eSIM in Singapore?
Yes, eSIMs are supported by several mobile network operators in Singapore, including Singtel, StarHub, and M1.
What are the advantages of using an eSIM over a physical SIM card?
Some advantages of eSIMs include the ability to activate a cellular plan remotely without needing a physical card, support for multiple plans on one device, and the convenience of not needing to physically swap SIM cards when traveling between countries.